What Is A Family Dentist?
If you are aware of what a general dentist is, it is easy to understand what a family dentist is. Both of them have similar educational backgrounds but differ in the category of patients.
General dentists usually restrict their patients to a certain age group. On the other hand, a family dentist addresses oral health at every stage of life. Meaning, they see patients of all ages – kids, adults, and the elderly.
Since family dentists oversee the treatment of kids, they are much more experienced than general dentists.
What Does A Family Dentist Study?
As mentioned before, a family dentist and a general dentist receive the same education. Both of them study for 3 years of undergrad and then move on to 4 years of dental school. After graduating, they are required to receive their licenses which permit them to work.
A family dentist might also be a qualified pediatrician – which means they've studied a couple of extra years to become a pediatric dentist. This makes them even more trained to deal with kids.
What Are The Most Useful Tips To Find A Family Dentist Near Me?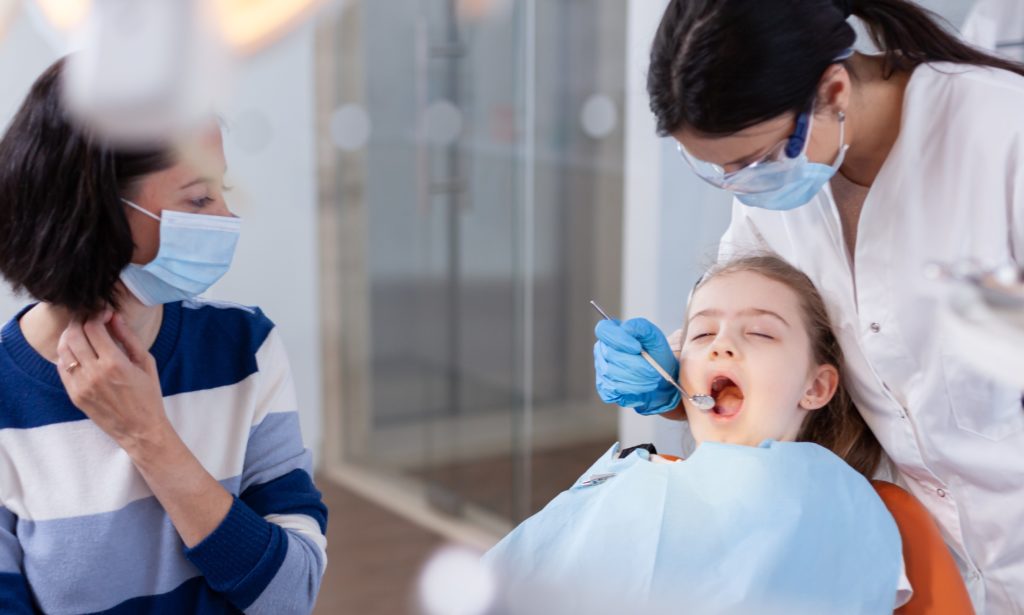 There are numerous ways to find a great family dentist near you. Some of the tips that come in handy are listed below – 
Recommendations Play A Huge Role
One of the sure-shot ways of finding a great family dentist is by asking around about their work. People in your area – family, neighbors, friends, or even coworkers – who have visited a family dentist can help provide great insight into the dental offices surrounding you.
Great family dentists always have a satisfied clientele, and people's personal experiences can help you shortlist the ones that are most recommended.
Aside from the people you know – asking a family doctor or your local pharmacist is another fantastic way of finding a family dentist.
Background Information Is Important
Once you've made a list of all the nominated dentists, find out what their background entails. Their past is a mirror into the future. State dental boards always keep detailed records of family dentists. Furthermore, they also track any and every claim that is filed against a particular dentist.
Take advantage of this resource – visit the state board's website and fully review the dentist in question's background. This resource comes in pretty handy when you're trying to find a trustworthy family dentist.
Find Out Their Reputation
A well-respected and good reputation are imperative when you are on the hunt for a dentist. Research the family dentists and their practices near you thoroughly. Lookup for any official websites and read up on other patients' experiences. 
Additionally, try to find out what other dental professionals have to say about the family dentist. To get a good comparison, check out multiple dentists.
Take A Trip Over To The Family Dental Office
The American Dental Office always recommends that you visit the offices of multiple dentists before you finalize the final one. This helps you understand the ins and outs of the office –
Is the appointment process easy?

How long the waiting times are?

What is the staff like? Are they welcoming and courteous?

Does the office space look clean, neat, and organized?

Are they careful about sanitization?

Is the dentist open to solving any queries or concerns?

Do they offer the services you require?

Does the dental office offer emergency services?

What are their policies on fees, payments, and if they're a part of your insurance plan?
Personal Preferences
Evaluate the family dentist based on what your requirements are. If you want to be in and out of the office in a flash, find a practice that has multiple dentists so you can schedule multiple appointments. Additionally, cost always plays a huge role as a deciding factor. Speak to the family dentist about their prices, insurance, and if they have any in-house dental plans you can take advantage of.
At River Rock, we understand that every family is different, and similarly, each person has separate needs. And you'll be happy to know that we are extremely accommodating of everybody's needs.
Is There A Family Dentist Near Me?
The internet is your best friend when it comes to searching for a family dentist. Just type the phrase "family dentist near me" or "family dentists near me" in the search bar. Take a note of the results that pop up. Follow suit by dropping by at the offices that intrigue you and make an assessment.
Settle for nothing but what is best for you and your family. At the end of the day, you and your loved ones must feel comfortable visiting the dentist – especially little kids.
Is River Rock DDS The Best Family Dentist Near Me?
Located in downtown Shakopee, MN, River Rock is a premiere dental establishment with over 15 years of dental excellence! We have a panel of dental experts – Doctors Christianson, Backes, and Hanson – all of who not only prioritize dental care but also patient comfort.
If you don't believe us, take a look at what our patients have to say about us. 
Furthermore, River Rock DDS offers a vast array of services – catering from little children to senior citizens. In short, we have something for everybody. And as a family dental practice, we understand that we have to meet the needs of the young and the old alike. Aside from your routine and preventive services, we also have cosmetic procedures that you can take advantage of.
In addition to the fantastic dental experts, we have extremely trained and professional staff. You can find out more about our team here. And being a family dental office, we're great at handling your little ones! Rest assured, they'll be walking out of their appointments like the happy campers that they are!
To get more information on service costs, insurance, and our dental plans, book an appointment with us. Either give us a call at (954) 445-5556 or leave your queries here.