Who are Pediatric Dentists?
Infants, little kids, and growing teens – all of them have a dental requirement that is different than those of an adult. This is why there is a separate branch that caters to dentistry for children, called "Pediatric Dentistry". And the experts working within the branch are known as pediatric dentists.
Why Should We Visit A Pediatric Dentist?
Children are the biggest culprits of dental caries or cavities. According to experts, over 50% of kids develop cavities in their baby teeth. What's scarier is that early childhood cavities are 5 times more common than asthma.
However, there is good news – the condition is preventable and a pediatric dentist is your best bet against the disease.
Why Is A Pediatric Dentist Perfect For Your Child?
Pediatric dentists are also called pedodontists. And they specialize in diagnosing, preventing, and treating dental issues in infants, children, and teenagers. This is because they receive additional education and training after dental school which makes them the experts on dentistry for children.
Pediatric dentists focus on the unique needs of growing kids – particularly issues that may develop in the teeth, gums, or jaw.
What Are The Benefits Of Dentistry For Children?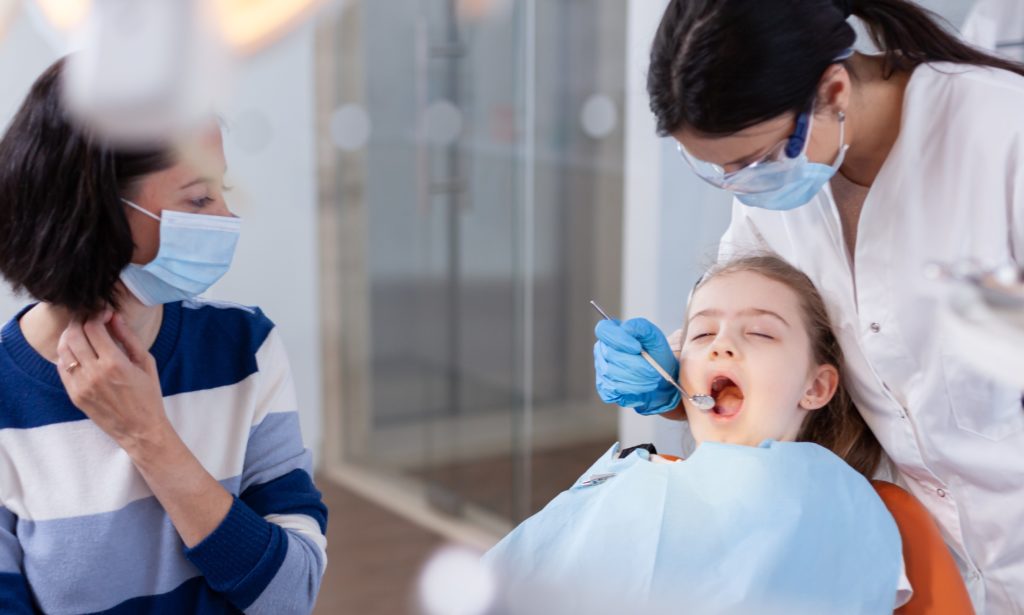 Taking your child to a pediatric dentist has many benefits. A couple of them are as follows – 
A pediatric dentist understands your Child's Growth And Dental Requirements
From the time they are born till they turn 18, children's bodies undergo many changes. Concerning oral health, there is growth and development of the jaw bone, moving and changing shape as they become adults.
Because a lot of change happens quickly in kids, visiting a pediatric dentist ensures that your child receives the appropriate dental care. Experts in dentistry for children are well-informed of all the changes in the different stages of a child's life and can ensure a healthy smile.
A Pediatric dentist is Specialized Experience And Training
A pediatric dentist has the kind of training and experience working with young teeth and jaws that general dentists don't have. And it is because of this, that they are better suited to provide more effective, safer, and more comfortable solutions for a child's dental issues.
As a parent, you can instill full faith in your child's pedodontist, knowing that they're looking out for them and their future smile.
More Awareness About Childhood Dental Issues And Habits
As we mentioned earlier, childhood dental caries is a very common issue among little kids. And a pediatric dentist is well-equipped to deal with the issue. They not only provide restorative care but also preventive.
Similarly, many children have habits like teeth grinding and thumb sucking that lead to dental issues in the future. A pediatric dentist can help your child stop the behavior and eventually, improve oral health. Whether you find these habits in kids or teens, a pediatric dentist is the highest qualified professional to tackle these behaviors safely and gracefully.
Calmer, More Comfortable Kids
We're all aware of how stressful a trip to the dentist's office can be for kids. And when they are unaware of what to expect at their appointment, it only adds insult to injury. A pediatric dentist not only understand but also acknowledge the concerns of their younger patients.
A pediatric dentist, along with their expertly trained staff, works together to ensure that the little humans feel relax and comfortable during their visit. In short, you will see calmer and happier kids before, during, and after their appointments. Additionally, this prevents them from being nervous whenever they visit their dentist next.
What Types Of Treatments Do Pediatric Dentists Provide
Pediatric dentists provide various kinds of treatments because children come in all shapes and sizes.
Preventive Treatments from pediatric dentists
A lot of the therapies in dentistry for children are preventive – because early tooth loss or cavities only lead to future complications with the permanent teeth.
One of the key things that occur in a pediatric dental office is cleaning every 6 months. This allows the dentist to assess the child's oral health and take care of any problems that might be cropping up. Furthermore, it helps the child assess their hygiene skills.
Fluoride And Sealant Application
To combat childhood caries, resin-based material is thinly layered on the surfaces of teeth. This cuts caries by 80% and protects all the hard-to-clean areas.
Similar to sealants, fluorides can also be apply as they help strengthen the child's teeth. Additionally, they prevent the buildup of plaque and calculus and also prevent cavities.
Fillings
Should a child's tooth experience decay, the affected part is removed and replaced with an inert filling material. This restores the tooth and also prevents the spread of the infection.
Dental Bonding
Bonding helps fix broken, cracked, or chipped teeth. And since children are no strangers to injury, it's a pretty helpful procedure. A tooth-colored resin is placed over the flaw, molded, and set into place.
Tooth Extractions
If a tooth has decayed beyond the scope of saving, extracting it is necessary to prevent the proliferation of infection. 
Dental Crowns
Dental crowns are tooth-shaped caps placed on teeth. The use of dental crown is to hold a damaged tooth in place if it loses the ability to maintain itself. Dental crowns restore the function and the look of the tooth.
Dental Emergencies
As stated earlier, children are pretty familiar with injury. Sometimes, these injuries can cause a dental emergency, which is terrifying. And a delay in receiving care may result in unnecessary tooth loss. Pediatric dentists encourage parents to call if their child experiences a dental emergency.
Based on the situation, they will either instruct you on how to provide first aid and call you in at a later time or call you in immediately. In rare cases, they might advise seeking treatment at a colleague's.
At River Rock Dental in Downtown Shakopee, we cater to not just your kids, but also your entire family. We're a family dental establishment that also takes great care of dentistry for children. Bring your little one over to our office and let us make them fall in love with their oral health. Give us a call at (952) 445-5556.