You've just moved to a new place, your employer has switched insurance plans, your old dentist is retiring, or you are probably contemplating switching to another practitioner, what do you do? In all likelihood, you're wondering, "Where can I find an experienced dentist near me?" While deciding on a dentist can be a daunting task, it doesn't have to be. We're here to give you the four-one-oh on getting in touch with a great dentist near you.
How Do I Find A Dentist Near Me?
Your relationship with your dentist is going to be a pretty long and extensive one. They're going to be witnessing you at your best and your worst. So landing on one involves a bit of research and look around. What's imperative is that you find a dentist you're comfortable with. To find a dentist that is the right fit for you, initiate the process by asking the following questions –
How far is the dental office away from you? Ideally, offices shouldn't be a ways away. Locating a place that is closer to both your house and place of work is the goal. Because you don't want to spend two hours in your car getting to and fro from the dentist.

What are the office hours at the dentist you're contemplating? Naturally, you would want to settle with an office that has convenient visiting times. Furthermore, is the dentist accommodating with dental emergencies? Because you don't want to get caught up with someone who can't help you out when you most require it.

What are the dentists' educational qualifications and how much training do they have? It is only fair that you would want a dentist that is well qualified and has significant experience with patients on their chair.

Aside from the dentist, what is the staff like at the dental office you're visiting? Are they warm and welcoming? Do they make your comfort a priority? And perhaps one of the most important takeaways if you have a child – is the little one at ease with the staff and dental team?

What is the dentists' perspective on preventive dentistry? Are they experienced enough to tackle an issue first hand and stop the ailment as soon as it starts?

What are the different types of anesthesia the dentist administers to keep the patient comfortable during their treatment? 

Is the dental office you're visiting clean and organized? Are the treatment rooms in order and well set up? Are the dentist and staff wearing gloves and protective equipment? Are they providing you with protective gear and aren't mishandling you? A lot can be said about a practice simply by observing the workplace.

Does the dentist further their knowledge and skills by attending continuing education workshops and dental conferences? A dentist that makes time to update their handiwork is a dentist that is committed to excellence. You shouldn't settle for anything less.

Are you provided thorough and complete information regarding a procedure before it is scheduled? Moreover, is the dentist open to answer any queries you may have about either the treatment or otherwise? A good dentist doesn't shy away from questions. They encourage their patients to enquire about anything they want to and are more than happy clearing any doubts that one might have.

What is the dental office's scheme on missed appointments? Are they cooperative and indulgent in re-arranging another appointment? Because we all know that life happens, and sometimes, you might not make it to a scheduled visit.

Is your dentist included in your dental insurance plan? Most insurance providers list out which dentists are a part of their plan. And if not, does the office have an in-house plan you can take advantage of? Money is money.
How Else Can I Find Out About A Dentist Near Me?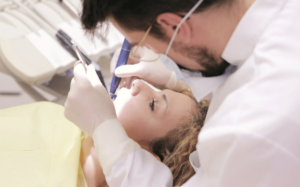 The ADA or American Dental Association has the following suggestion for when you're dentist shopping – 
Ask around. Get in touch with family, friends, co-workers, and the neighborhood for their recommendations on good dentists in and around your area. Additionally, if you manage to narrow down offices, look up the internet to see if they have an official website. While the presence of a website doesn't ensure that they'll be your final choice, you can always find patient testimonials. Patient feedback is pretty essential in figuring out if the dentist is right for you and your family.

Alternatively, if you have a general practitioner or a family doctor, you can also ask them for a recommendation. Moreover, pharmacists at your local pharmacy also have information on good dentists in the vicinity.

If you're going to be moving, ask your current dentist if they're aware of a good office to the place you're moving to. Dentists are almost always associated with each other due to conferences and workshops, and they might be able to help you with what you're looking for.

Correspond with your local or state dental societies. The American Dental Association has a list of local and state societies on its

website

. Furthermore, you will also be able to find these societies in the telephone directory.
A small suggestion from the ADA – Call and/or visit more than one dentist before finalizing the one.
At River Rock Dental in downtown Shakopee, we're not only committed to excellence in terms of therapies, but we're also extremely particular about patient satisfaction. Doctors Christianson and Backes have a decade long collective clinical experience and are constantly updated with education and learning.
Our offices are set up with all the modern equipment because we pay high attention to detail when it comes to our patients' well-being. Furthermore, you will find us catering to a wide array of dental issues – whether they're preventive, corrective, restorative, or cosmetic. And in case we're not a part of your current plan, or you find yourself without one, we have an in-house insurance plan that you can take advantage of.
Feel free to come in and ask your questions at our dental office. You can also dial (952) 445-5556 to book an appointment with us today.