If you need a same-day crown, you might be wondering how long it will last. Traditional lab-made crowns can take about two weeks before you receive them. But what can you expect for the longevity of the same-day crowns? To reduce the usual two visits to a single visit means that your restoration won't last as long?
Read on to know the answers to all such questions about same-day crowns.
What is a Same-Day Crown?
A same-day crown is a dental restoration created in just one visit to the dental office. If you have a cracked, chipped, or damaged tooth or even a tooth that you want to improve your appearance, the same-day crown can be used to enhance your smile.
The first step is to measure the tooth in question and use a camera to take digital images. Then these pictures are uploaded to computer software, which creates a 3D rendering of your tooth and the full specifications that need to be produced. That information is then forwarded to the milling machine, virtually printing your dental crowns while you wait. There is no need to fit you with a temporary crown because you can have your permanent crown before leaving the dentist's office with same-day crowns.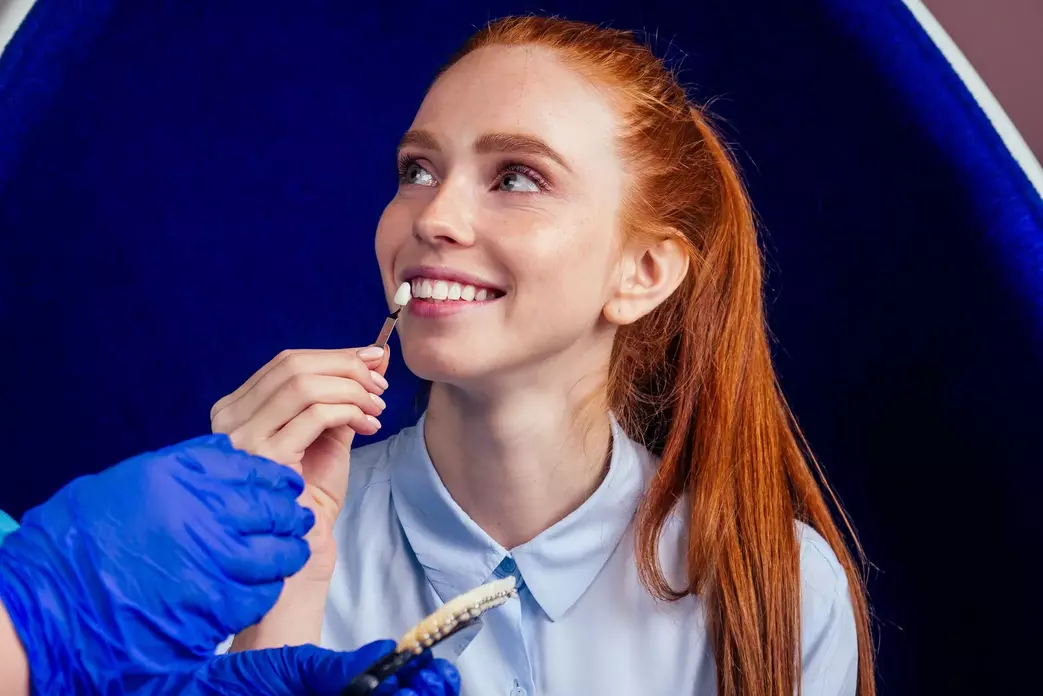 Benefits of Same-Day Crowns
Convenience
Your restoration can be completed in just one visit with same-day crowns. So, you do not need to wear a temporary crown or come back in at a later date to complete the process.
Appearance
Same-day crowns look completely natural and are ideal for restoring the appearance of your smile after any dental damage.
Durability
Same-day crowns are strong & durable dental crowns that can stand the test of time.
The Same-day Crown Process
The process of fitting a same-day crown for you is similar to a traditional crown. But the technology for a same-day crown is available in the dental office, and it provides excellent precision.
To ensure the crown fits over your tooth, your dentist will taper it.
Next, he will make a highly accurate impression of your teeth using a handheld scanner.
This impression is transferred to a milling machine to create a precisely fitting crown.
To craft your same-day crown, your dentist will use high-quality dental ceramic.
To position the crown with accuracy, your dentist will take the help of digital technology.
Next, your dentists will thoroughly check the crown for proper bite and fit before bonding it on. It helps the crown withstand biting and chewing forces when your dentist uses expert bonding techniques.
How long does a Same-Day Crown last?
On average, a same-day crown can last around 10 to 15 years. But if you maintain them properly, they can last even longer. Same-day crowns are made from a block of high-quality tooth-colored ceramic material that is very durable. The lifespan of these crowns majorly depends on the following three factors:
1. Diet
Some specific things in your diet can cause damage to your crowns over time. So, its vice to avoid foods and drinks that are:
Hard: hard food like a well-done steak, tough bread roll, and many more can chip, crack, or break your crown.
Darkly colored: darkly colored food or drinks can show signs of discoloration with time, and therefore it's best to enjoy its intake in moderation. These include- tea, coffee, red wine, soy sauce, marinara sauce, barbeque sauce, and a few fruits such as blueberries and blackberries.
Sticky or gummy: food like gummy candy may cause your crown to pop off.
Acidic: food and drinks like coffee, soda, citrus fruits like lemons, and more may wear away at the dental crown adhesive.
2. Habits
There's no better time than the present to kick your bad habits to the curb! It can help if you try to refrain from habits like:
Using your teeth as tools: these tools can damage your crown.
Chewing on ice, pens, or anything hard: chewing anything can damage your crown.
Using tobacco products: tobacco products can cause not only your crown but also your natural teeth to turn yellow.
3. Oral hygiene
For taking good care of your crowns and your teeth in general, it's important to maintain an excellent oral hygiene routine. To do this, you should:
At least brush twice daily with a soft-bristled toothbrush and nonabrasive toothpaste, which will prevent extra wear or any scratches on your crown.
Floss at least once daily
Visit your dentist regularly for regular checkups and cleanings
Note: Be careful when you floss because if you snap the floss between your teeth and crown, it may dislodge the crown. Instead, make a C-shape with the floss and slide it around the sides of your teeth and the restoration.
Same-day Crowns at RiverRock Dental, Shakopee MN
Compared to traditional crowns, same-day crowns help reduce the number of dental visits and the amount of time spent in the dentist's chair. With an appointment requirement of just two hours, many patients can return to work or other activities on the same day.
If you consider same-day crowns in Shakopee, MN, contact RiverRock Dental for more information at (952)445-5556 or riverrockdds@gmail.com.